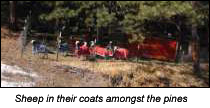 What is Schafewald Sheep Farm? Schafewald Sheep Farm is a small family farm dedicated to the preservation and promotion of the Jacob sheep. We produce top-quality registered Jacob sheep, superb fleeces, fine handmade sheepcoats, roving, hand spun yarn, batts & more .


Who are we? Lorraine Perry runs Schafewald with the help of her husband Dale, her mother Nancy, and their three dogs (Barney and Glynis -- both Corgis -- and Kalija, an Australian Cattle Dog).
Where are we located? Our farm is located in the foothills near Loveland, Colorado. We're about 15 miles west of Loveland, mid-way between Loveland and Estes Park, south of the Big Thompson Canyon. We're a moderate drive north and west from the Denver area.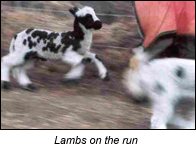 What else do we do? In addition to conserving the Jacob breed, I go out into the community to demonstrate spinning. I educate the public about where wool & yarn come from & about the joy of raising sheep in a responsible way.
On the farm we use no motorized equipment except the tractor for occasional mowing & the pick up for hay hauling. All the labor is done by hand.

As of May 2009 I will have a booth at several Farmers' Markets in the Loveland/Fort Collins area. Please contact me or check back here in the spring for locations.